Art Van Go Creating with Colour
After over 34 years ART VAN GO is now heading towards retirement. Click HERE to find out about winding down SALES DAYS, or read on to find out all about us!
For Collections & Phone Calls
Monday, Tuesday, Thursday, Friday
9.00am - 5.30pm
(Closed Wed, Sat, Sun)
Online Shop
Operates 24/7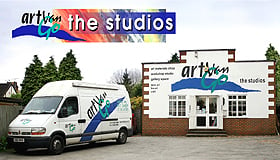 Due to Brexit and the continuing confusion surrounding sending out goods we regret we have suspended sales to the EU and Northern Ireland. Please see HERE for more details.
A little note about how we package our goods...
As a company that cares about our impact on the environment, and in an effort to reduce our carbon footprint, we often send out our goods in recycled packaging. So please don't be surprised if your goods are wrapped in a cat food box or teabag box. We will always use clean, dry recycled packaging to safely send your goods to you, and kindly ask if you can recycle as much as you can of what we send out!
Our 'retirement' plans for 2020 were put on hold by Covid 19 and our doors have been closed since the beginning of the pandemic.
As the pandemic situation has eased we have begun our wind-down process with the doors to the bricks & mortar shop open for SPECIAL EVENT DAYS
The latest dates for the Shop Clearance Days can be found HERE
We are also starting to have CLEARANCE SALES on the website.
Further details will be announced by email
SIGN UP to be notified.