Past Studio Events & Exhibitions
Thin Places
An exhibition of work by
Gill Ayre and Caryl Beach
Tues 22nd January - Saturday 23rd February 2019
Thin Places are places where the veil between the temporal and the spiritual worlds are tissue thin, and in such places, we may be able to experience glimpses of the spiritual dimension.
Artists Gill Ayre and Caryl Beach explore what this means to them in their work. Always rooted in their experience of landscape, their work touches on these shifts in perception, where mundanity gives way to mystery.
'Moors, marshlands and mountains are places where I can feel a shift in my experience of the world, places of dissemblance and mystery.
Moors are places where we can lose ourselves in the vast, open, windswept spaces, and experience a sense of our own insignificance.
Marshlands are transitional, threshold places, where substance becomes insubstantial, where earth melts into water.
Mountains, shrouded in mist and cloud, are places of mystery, are often seen as spiritual places, where we can glimpse something of the eternal.
Places where you can lose yourself, in both senses of the word - these are my inspirations.'
Gill Ayre
'Landscape: where land meets sea is my thin place. A calm, mysterious and sometimes overwhelmingly powerful place.
A place of wonderment and inspiration where the elements of nature vie for dominance.
My work in video, photography and mixed media strive to represent the transient and enigmatic nature of our world, whose beauty lies in imperfection and impermanence. '
Jeudis
A Retrospective
Tues 11th Sept - Sat 20th Oct 2018
Jeudis is a group of nine textile artists who come from a wide area over the East Midlands. Over the years they have regularly exhibited as venues such as The Fashion & Embroidery Show at the NEC. They work in a variety of styles, mediums and techniques.
This exhibition shows a cross section of their work spanning the past three years and includes both 2 dimensional and 3 dimensional pieces.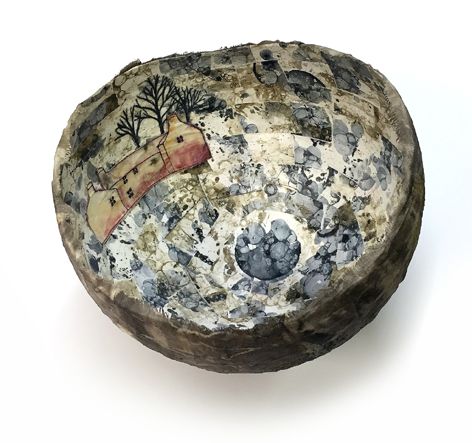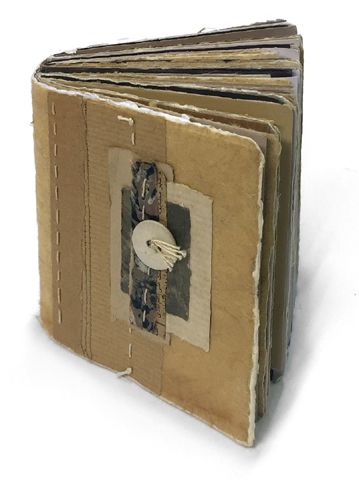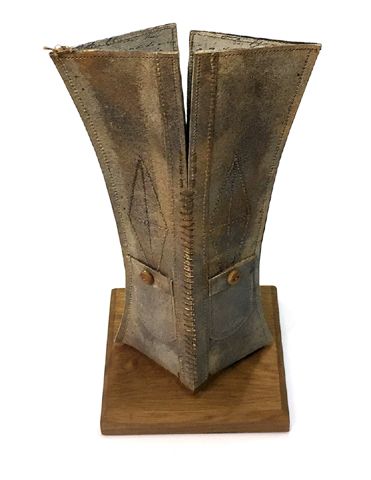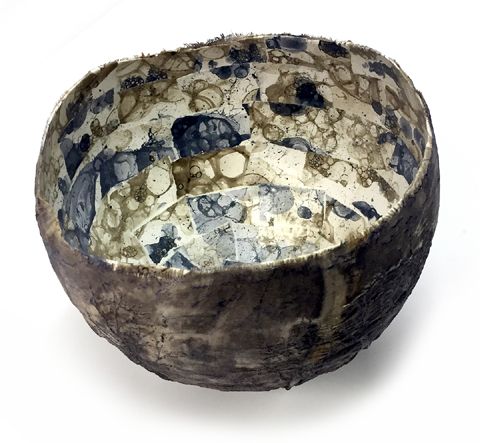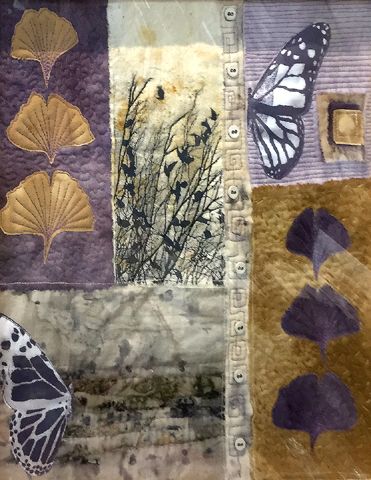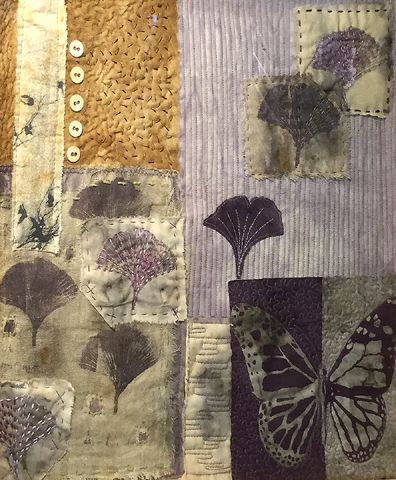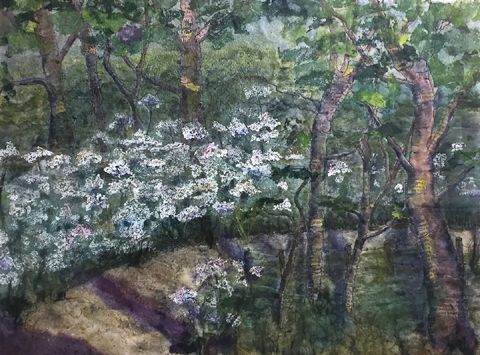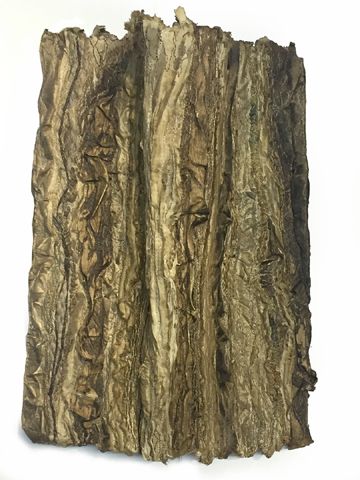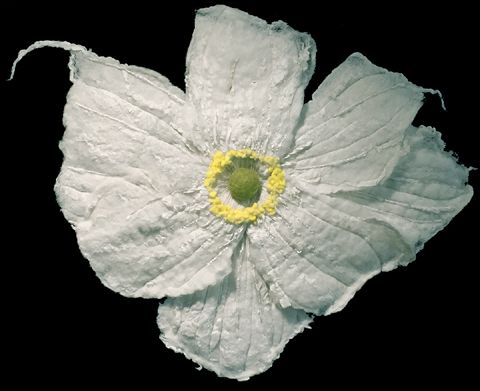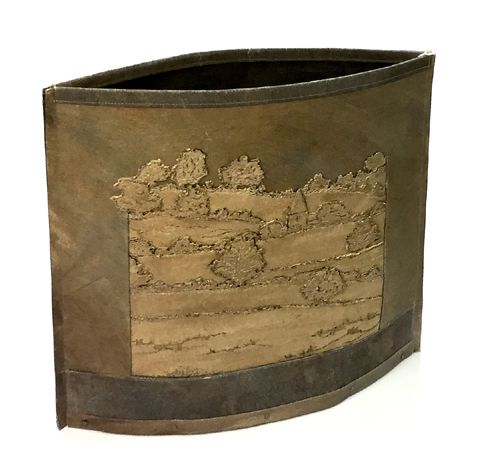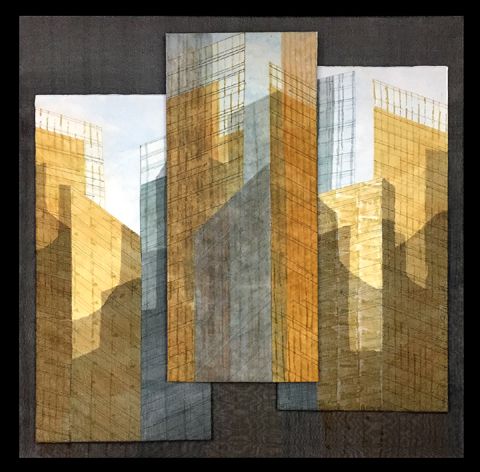 Jean Baker
Catherine Ball
Hazel Brewer
Gill Green
Karen Lane
Sue Lewis
Christine Plummer
Linda Settle
Elaine Winterton
Tick the Box
The second exhibition from contemporary textile group
Work in Progress
which interprets the ideas of 'ticking the box'.
The work is varied, amusing and uses a wide variety of techniques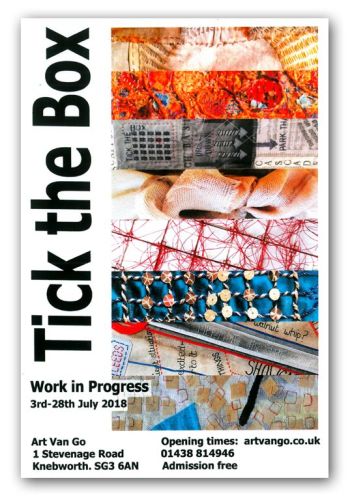 "The theme of our latest exhibition, Tick the Box, came out of discussions about how to escape the pressure to 'get through our lists', to conform - especially in the workplace, combined with the pleasure in literally making box forms.
This is the second joint exhibition from the 'Work In Progress' Group. The seven of us, Pat Brown, Sue Cooke, Gill Davies, Jeannine Lawder, Penny Proctor, Janet Pullen, Lesley Taylor, are linked through studying a City and Guilds Diploma in embroidery at Missenden Abbey.
Fascinated by stitch but separated by a diversity of techniques, our exhibition explores highly individual imagery and materials. We hope you enjoy our different interpretations of 'Tick the Box' ".
Tues 3rd to Sat 28th July
ART VAN GO Gallery
Opening times:
9.00-5.30 Tues-Fri, 9.00-2.30 Sat
The Starting Line
A group exhibition from
Work In Progress
15th November - 3rd December
The first exhibition from this diverse group of textile artists who were tutored by Janet Edmonds for the C&G Diploma in Embroidery.
'The Gathering'
Sat 4th June
10am to 4pm



In attendance, for your delectation was Clive Barnett, Alison Hulme, Nodeen Salmon and Pauline Verrinder! So there was all sorts of free-machine embroidery from Pauline and Nodeen, screen printing and gelli-plate printing from Clive and Alison, with sketchbooks in evidence, colour, dyes and a loads more ....
From the Earth
A Celebration of Ethical and Natural Textile Practices
Curated by Caroline Bell and Jenny Leslie
This is a two venue event:
Wed 1st - Sun 26th June
Main Exhibition

ART VAN GO
Sat 4th - Sat 25th June
Workshops & Tutors' Exhibition

The aim of the event is to promote ethical textile practices in the broadest sense, through the use of natural dyes and printing processes, natural fabrics and fibres, with particular reference to those produced in ethical ways, upcycling and incorporating other natural materials and 'found' items.
The month long exhibition at
Mardleybury Gallery
, in neighbouring Datchworth, is supported by a series of workshops by well-known textile practitioners here at Art Van Go in Knebworth.
Tutors and exhibiting artists include:
We were delighted and privileged to host this 'retrospective' exhibition of one of the most eminent and influential textile artists of recent times.
Maggie Grey has inspired thousands over the years with her teaching and her numerous books as well as her demonstrations at many, many shows and events.


Long Diaries and Tall Tales

Maggie Grey Past and Present
An exhibition of creative textile and mixed-media work by Maggie Grey.
Tues 1st - Sat 26th March 2016

Maggie described this exhibition as 'a quick flick through the back catalogue'.
The exhibition worked its way from pre City and Guilds drawings, through the writing years with Batsford, the excitement of working on a textile resource book with the Royal School of Arts, the teaching trips (in the UK and overseas) and the distance learning course that grew to be Workshop on the Web. Maggie showed work from each of these milestones and continued the theme with the advent of the D4daisy Book Company.
Recent work is informed by these years and her 'long diary' panels document the process. The diaries are featured in her latest book Long Diaries and Tall Tales and herald a new departure: a collaboration with husband Clive and his calligraphy skills. Maggie says,"I am so enjoying the story-telling aspects this introduces and am looking forward to working on these and other options while In Residence at Art Van Go".
In Residence Special with Maggie Grey
Tues 1st - Fri 4th March
As a very special introduction to the exhibition Maggie will be here in the gallery sharing her techniques and stories.
Maggie is never short of new ideas and new uses for conventional materials so this will be a fantastic opportunity to see the work and ask her about her approaches, her processes and the development of ideas.
This will all be in a relaxed and informal atmosphere - quite diffferent to workshop situations or seeing Maggie at big events - and will be a chance to pick up signed copies of her books!
We look forward to seeing you there - don't miss your chance to be 'up-close' with the wonderful Maggie Grey!!
Times:
Tuesday to Thursday: 10am - 4pm
Friday: 10am - 1pm
---
---
We celebrated the work of our wonderful tutors with this very special exhibition -
The Spirit of Giving
Friday 11th December - Saturday 30th January 2016
Work from Artists and Tutors in the ART VAN GO Workshop Programme
Christmas is the time of year for giving, but in the case of this exhibition it is all about the 'generousity of spirit' that is in every good teacher and tutor. They give of themselves to educate and inspire, passing on their experience, their knowledge and their love of the subject. They also give their time willingly - not only during the workshop, but in hours of preparation. Many, we all know, do also give perhaps over-generously of their own materials and resources. They all do this because they want us to find the same joy in the techniques, the materials and the results that they had originally discovered themselves.
This exhibition was our 'thank you' for all that these wonderful tutors have given. We are so lucky to know them all and to have them 'giving' workshops here at Art Van Go.
Much of the work was for sale and included wall-hung pieces and 3D pieces as well as smaller accessories and jewellery.
Just a few of the many, many images from workshops here at Art Van Go
---
---
Christmas Bizarre!!!
aka The Winter Gathering 2015
Fri 11th December
10am - 5pm
Sat 12th December
10am - 4pm

We'd had such a good time with the 'The Gatherings' over the last couple of summers, we thought why not do it again for Christmas - and yes the spelling of 'Bizarre' was intended!!!
The idea was to give the opportunity to meet up with old friends, meet the artists and tutors and - hopefully - pick up a 2016 WORKSHOP PROGRAMME - not just hot but more likely 'sizzling' off the press!!

We will be featuring at least five textile artists working in the gallery each day, Patricia Wood from Mulberry Silks will be here as a 'pop-up' shop, and there will be an exhibition of tutor's work.
All of this plus, if all goes to plan, there will be festive refreshments! Mulled wine and mince pies are a definite, but will we find chestnuts in time to roast on the BBQ - and will that work??!
Quite apart from all the activity there was all sorts of things in the gallery that would make wonderful Christmas presents - so it all made for a really merry time!!!
A few images from previous Gatherings!
The Artists involved in the Christmas Bizarre
Each of the artists were working in the gallery to show you their techniques and ideas, as well as being available to answer questions. All of the artists are highly skilled and experienced, so you could leave the event with just the bit of enlightenment that you've been searching for!! We would like to thank each of the artists for taking part in this event.
The artists will all also have their own work for sale.
The 'Spirit of Giving' exhibition included work from each of these artists.

Appearing on Friday
Appearing on Saturday
The pop-up shop for the Christmas Bizarre
Mulberry Silks
It is said that once you have worked with silk it spoils you for any other thread. Our good friend Patricia sells a unique and exclusive range of hand-wound Pure Silk Twist for embroiderers in Medium or Fine thickness. I'm sure you'll agree that your spirits are bound to be lifted whenever you see her array of threads, fabrics, fibres and ribbons in so many jewel-like colours at the shows around the country. This is your chance to take your time choosing gifts for friends - or to treat yourself - while enjoying the atmosphere of the Christmas Bizarre!
www.mulberrysilks-patriciawood.com
Mulberry Silks will be here on Friday and Saturday
---
---
This event was two exhibitions in one!
The element in common is repetition of the gridded form. One is large and bold - monochromatic knitted stitch taken to sculptural extremes - then this has been juxtaposed with work of the opposing extreme - small-scale colourful abstracts.
'Work on the Wild Side'
by Angie Salfield
Tues 3rd - Sat 28th Nov 2015
An imaginative exploration
of the possibilities of knitting and felting
as art forms.
Tactile and thought-provoking work
including 'off the wall' pieces
of sculptural knitted interactive
installations which aims to
engage and surprise.

'Privacy of Scale'
by Mike Button
Tues 3rd - Sat 28th Nov 2015
Originally inspired by the work of the 17th century portrait miniaturist Samuel Cooper,
Mike Button has moved into painting abstract miniatures.
The 'privacy' and engagement with the small scale, each piece taking many hours to complete, informs his colourful and detailed work.
In this exhibition of Giclee prints, no framed piece is larger than fourteen inches square.
---
---
IT'S A PARADOX
An Exhibition of Mixed Media and Textiles

Lynda Monk
Pauline Verrinder
Tues 22nd Sept - Sat 31st Oct 2015
Calling this exhibition 'It's a Paradox' arose from the obvious contradiction of styles of work that Lynda and Pauline produce, even though there are obvious similarities in process and materials.
"Expect the unexpected" best describes Lynda's thought provoking themes, concepts and unique mixed-media techniques. This contrasts intriguingly with Pauline's passion for the intricacy, complexity and delicacy of the natural world which informs her work as a contemporary textile artist.
Lynda Monk uses thermofax screens together with the 'new' materials (puff binders, lutradur etc) together with stitch and wire to create delicate pieces or to embellish imposing three dimensional structures.
www.purplemissus.com
Pauline Verrinder uses natural fabrics with stitch and wire to create intricate pieces that reflect the flowing forms of nature.
www.paulineverrinder.com
There were workshops with Lynda Monk and Pauline Verrinder to support the exhibition


'All Wired Up 1'
Wed 28th & Thurs 29th Oct 2015
Tutor: Pauline Verrinder
Constructing forms using a combination of wire, fabric, and thread will be the main thrust of the day. Jewellery, various forms, shapes, vessels and installations are all possible in the long term, but we will start small and build. We will be working with wired free machine embroidery and hand stitch techniques which will reflect the work exhibited at the Art Van Go, 'It's a Paradox'.
Cost: £72.00 (inc £5.00 materials charge).
'All Wired Up 2'
Thurs 5th & Fri 6th Nov 2015
Tutor: Lynda Monk
We will be constructing forms using a combination of designs printed on to Lutradur using Xpandaprint and cotton covered wire. The contstructed fabric will be manipulated to create 3D form, vessels or boxes. We will then experiment with colouring and displaying the finished pieces.
Cost: £81.00 (inc £10.00 materials charge).
See Workshops for details of current workshops
---
---
After the stunning exhibition and Summer School from Alice Fox that we had it was a delight to feature this exhibition in the gallery.
These two wonderful textile artists were aware of each other's work, but were not previously acquainted until we brought them together for this event. The combination works beautifully, each artist complementing the work of the other with their carefully considered pieces.
LINES AND EDGES
An Exhibition of Printed, Dyed and Stitched Textiles

Clive Barnett
Helen Terry
Wed 2nd - Sat 19th September 2015
An exhibition of new work by Helen Terry and Clive Barnett, that explores the qualities of line and edge through individual approaches to mark-making on cloth. Both artists use dye and stitch to generate layers of abstract marks that create dynamic visual relationships and rhythms across the surface.
Clive Barnett uses printed and stitched marks to explore the possibilities of line and broken line. Neat or frayed edges and careful stitching create seams or furrows and long narrow marks, which can alternately hide or emphasise line and appear intentionally uneven or uncertain.
Helen Terry uses dye and stitch to explore how we perceive line and edge in abstract marks. She is inspired by found marks and edges in the landscape; particularly places where water and land meet, where edges are fluid and subject to change.
Helen Terry uses dye, mark making and hand stitch to assemble abstract textile works. She has a degree in Ancient and Medieval History reflecting a fascination with the way we interpret fragments and traces of the past to uncover hidden stories and meaning.
www.helenterryart.co.uk
Clive Barnett trained as a weaver in the sixties, and is therefore influenced by the visual tactile nature of the cloth. Clive is particularly interested in mark-making, print and discharge - altering the surface of the substrate - then layering with hand stitch.
There was a workshop with Clive Barnett scheduled to coincide with the exhibition
'Field Study'
Friday 18th Sept 2015
Inspired by abstract or traditional landscape images of the rural and natural world, explore mark-making and mono-printing on fabric with Procion dye. Create imagery that echoes the rhythm and pattern of man's influence on his surroundings while discovering the versatility of these printing techiques.
All materials, including the fabrics, are prepared and supplied by Clive. All you have to bring is your inspiration - whether it is a picture or the written word, an apron and gloves.
Cost: £54.00 (inc £8.00 materials charge)

See Workshops for details of current workshops

---
Alice Fox
Exhibition & Book Launch
Here and There
An Exhibition of Textiles by Alice Fox
Tues 21st July - Sat 29th Aug 2015
Book Launch
Sat 25th July 2015
10am - 3.30pm
This exhibition of beautiful work from Alice Fox celebrated the launch of her first book published by Batsford -
Natural Processes in Textile Art
"From Rust Dyeing to Found Objects"
We are sure that Alice now needs no introduction to many of you, and those who do know her have been waiting with bated breath for the launch of this book. You will not be disappointed. We have seen the preview copy and it is absolutely fabulous!!!
This is what Batsford has to say about the book
"A guide to the increasingly popular practice of harnessing the world of nature in textile art, from rust-dyeing to weaving with found fibres.Ties into today's make-do-and-mend culture and ideas of sustainable living. Alice Fox is a highly respected textile artist who worked as artist-in-residence at a nature reserve, which informs her work.
More and more textile artists are using natural processes in their work, from dyeing with rust to working with found and scavenged items, and this book is the first to bring these increasingly popular techniques together. It promotes a way of working creatively with what is close at hand, whether gathered on walks by the seashore or collected in your garden, and working in tune with natural processes, bringing the rhythms and unpredictability of nature into your work.
Examples of this type of working include rust dyeing embroidered fabric to give it a natural patina, dyeing with garden fruits or seaweed, weaving with pieces of beach-combed fibre and printing with found objects. In all of this work nature is directly harnessed to make its mark.
The book is illustrated with the finest examples of contemporary embroidery and textile-art work using nature, by artists whose practice is tied up with their experience of and respect for the natural environment, often capturing a very strong sense of place and a feeling of calmness and contemplation."
Alice Fox is an embroiderer and textile artist who has a strong interest in the natural world. In 2012 she was artist-in-residence at Spurn Point National Nature Reserve in East Yorkshire, an experience that has informed much of her recent work. She lives in Shipley, West Yorkshire.
www.alicefox.co.uk
Now the really exciting news!!
Alice Fox will be here in the gallery on Saturday 25th July 2015 to launch the book. We have been promised by Batsford that we will have 50 copies here in time for the event, so if you come along on that Saturday you can get your hands on a specially signed copy.
This is a couple of weeks earlier than the official launch date, so be one of the first to own this very special book from Alice Fox and get to Art Van Go to meet her in person.
Natural Processes in Textile Art
"From Rust Dyeing to Found Objects"
ISBN 13: 9781849942980
PRICE: £22.50
PUB. DATE: 06 August 2015
FORMAT: Hardback, 128 pages
ILLUSTRATIONS: 120 colour illustrations
SIZE (h x w): 276 x 216 mm
---
The Summer Gathering 2015
Venue: ART VAN GO, The Studios

Following on from last year's event, 'The Gathering' is back again! We had such a good time over the two days in May 2014 to celebrate our 25th birthday that we thought we'd make it a feature!
Really it's an excuse to get everyone together to celebrate the summer, meet up with old friends, chat to artists and just embrace all that creativity. It's always lovely to see everyone and spend time with like-minded people
Fri 17th July
10am - 5pm
Sat 18th July
10am - 4pm
What Happens
We will be featuring six textile artists working in the gallery each day, with three special 'pop-up' shops - 21st Century Yarns, Martin Conlan from Slow Loris Textiles and Debbie Carlton Jewellery. In addition there will be the East st Arts exhibition, with demonstrations in the garden from one of the artists, plus one or two surprise extras depending on the weather.
The Pop-Up Shops

21st Century Yarns
Wendy Tong will be bringing her beautiful luxury yarns and natural fibres in a wonderful array of space-dyed and plain colours. Some of you will already be using her yarns and fibres and many more will recognise the kaleidoscope of colours and textures that bedeck the 21st Century stand at exhibitions large and small.
www.21stcenturyyarns.com
Here on Friday and Saturday
Slow Loris Textiles
Martin Conlan of Slow Loris, will be bringing his wonderful Chinese textiles and artefacts. Martin is an acknowledged expert in the textile arts and crafts of Chinese tribal minorities. He travels extensively, collecting and trading in Indigo and vegetable-dyed clothing and Oriental tribal clothing and textiles to bring his finds and his knowledge to events all over the country.
[email protected]
Here on Friday and Saturday
Debbie Carlton Jewellery
Debbie will be bringing her beautifully crafted contemporary jewellery. polymer clay and silver metal clay jewellery. Each piece is unique and may be created with either 'polymer clay' or with 'precious metal clay' or, in many cases with a combination of both! Debbie will also be demonstrating some of the fascinating processes she uses with 'polymer clay'.
www.debbiecarltonjewellery.co.uk
Here on Friday only

The Artists
Each of the artists will be working in the gallery or in the garden to show you their techniques and ideas. They will all also have work for sale.

Appearing on Friday
Appearing on Saturday
The Exhibition ...
Coinciding with 'The Gathering' we have an exhibition from a local group of artists in the gallery.
East st Arts
Tues 7th - Sat 18th July
Clive Anthony
Katherine Armstrong
Heather Burwell
Gail Robins
This exhibition showcasing a range of paintings and sculpture by four East st Arts members is a pre-cursor to the HVA Open Studios this September. These four artists along with other East st Arts members have converted a temporary office space in Stevenage into working studios and an exhibition space.
For more info contact Heather Burwell
07905 916399
[email protected]
www.heatherburwellart.co.uk
Sculpture Demonstration
Heather Burwell, one of the artists featured in the East st Arts exhibition, will be working in the garden on her sculptural pieces on Friday and Saturday
Heather Burwell
www.heatherburwellart.co.uk