Find Us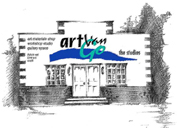 ART VAN GO
The Studios
1 Stevenage Rd
Knebworth
Herts SG3 6AN
Tel: 01438 814946
By Car
The Studios is situated on the B197 (the road that links Jn 6 & 7 of the A1M) just 20yds north of the end of Knebworth High Street
Directions from the A1M
Travelling North: leave at Jn 6 (for Welwyn & Welwyn Garden City), follow the signs for Welwyn – NOT Welwyn Garden City. At 3rd roundabout (there is a block of flats adjacent ahead) turn right, now picking up signs for Knebworth. Keep on this road. You will pass a parade of shops on the left-hand-side followed immediately by The North Star pub; later there will be The Chequers pub and then The Red Lion pub on the LHS in Woolmer Green. Less than a mile later go straight on over a mini roundabout, then continue for about another half mile until you come to the mini roundabout at the north end of Knebworth High Street (only about 100yds long but has shops both sides of the road). Over this roundabout, and 20yds on, The Studios are on the left-hand-side, set back from the road with a car-park in front.
Travelling South: leave at Jn 7 (for Stevenage & Knebworth House), follow signs for Stevenage – DO NOT follow signs for Knebworth House, that road only goes to the House. At the 2nd roundabout (retail park on the LHS) turn right for Knebworth. Next roundabout, take first exit. Pass Tesco on the RHS and at the next mini roundabout (Posthouse Hotel) take the second exit. Follow this road up the hill with fields on both sides and into the 30mph limit over the brow of the hill into the residential area. Travel down the hill but be aware that The Studios is on the right-hand-side just before the small roundabout at the bottom of the hill. There is a semi-covered bus-stop on the LHS of the road, and our opening to the car-park is directly opposite
By Rail
Knebworth mainline Station (Kings Cross line) is 5mins walk from The Studios.
Out of the Station, turn left and left under the railway bridge. Follow this road over a mini roundabout, then at the next mini roundabout turn left onto Stevenage Road. Turn left into The Studios about 20yds later.