Workshop Programme 2019
Welcome to the 2019 ART VAN GO Workshop Programme
The workshops are listed here for the January - June period only.

Details of workshops taking place later in the year are currently only available to those on our mailing list.
Those on the mailing list are able to view the workshops and make bookings before the programme is made public.
To add your name to the mailing list and enjoy this benefit, click HERE!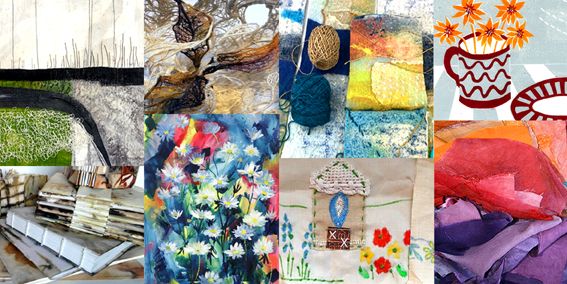 All workshops are held at ART VAN GO and run from 10am to 4pm

The maximum numbers on a workshop is normally 12, but many workshops listed here have the maximum reduced to a lower number to accommodate the greater demand for space for particular subjects.
Where this is the case, a note has been added to the workshop details.
Booking is by phone, or in person, only
Tel: 01438 814946
For Booking Conditions click HERE

For general workshop information click HERE
House and Home

Thurs 7th Feb

Two Day Workshop

Fri 8th Feb

Tutor: Anne Kelly

Houses and buildings are a rich source of inspiration for textile collage work. You will use a variety of found textiles, techniques and stitch to create a special piece representing a house or home of your choice. Working from techniques found in her new book 'Textile Folk Art', Anne will help you to create a unique and meaningful piece of textile art. A collage of your favourite special place will enable you to explore different ways of layering and collating fabric.

Anne likes her students to look through their collections of vintage and reclaimed textiles and to use pieces in their work. Giving new life to old fabric

Cost: £94.00 (inc £2.00 materials charge)
Sketchbook Development: Observations and Experimentation with Drawing & Mixed Media

Tues 12 Feb

Two Day Workshop
Wed 13th Feb

Tutor: Amanda Hislop

During the workshop you will explore the creative potential of line with restrained colour and texture through experimentation with drawn marks, layering and simple collage. Working with a selection of natural forms, which will be provided, develop simple line drawings observing shape and detail within, thereby finding your view and response to the form. From those images explore and simplify; abstract and fragment, to create a highly personal record of inspiration and experimentation to be drawn upon in later work and/or to be appreciated in their own right.

You will work intuitively with materials and mediums to create personal pages using line texture and colour. You will also work with different qualities of drawn lines with resist, layered tissue and colour washes to free up and create expressive original abstract arrangements to form inspired sketchbook pages.

Suitable for those who with an open mind who enjoy the challenge of intuitive experimentation, exploration and the extension of creative boundaries.

Cost: £105.00 (inc £8.00 materials charge)

NOTE: Numbers will be limited to a maximum of 9
Print - and then Print Some More!

Thurs 14th Feb

Two Day Workshop

Fri 15th Feb

Tutor: Alison Hulme

Frequently referred to as 'The Pinny Lady' (because she hand-prints & hand-makes beautiful aprons), if you are at all interested in printing on fabric, a workshop with Alison is essential! Learn how to use Alison's printing techniques to make lots of sample cloths that could then be made into your choice of practical or decorative items. You will print with gelli plates as well as Alison's huge stash of thermofax screens, stencils and stamps, under her special supervision. The work you create could be used as a unique printed piece or as a base for further embellishment with stitch. The choice will be yours!

Cost: £106.00 (inc £10.00 materials charge)

NOTE: Numbers will be limited to a maximum of 8
Contemporary Applique: The Eyes Have It!

Tues 19th Feb

Two Day Workshop

Wed 20th Feb

Tutor: Julia Triston

This two-day workshop will investigate a variety of layering, piecing, collage and contemporary applique techniques, mostly using upcycled materials. The theme of 'eyes and faces' will be explored through design and machine stitch (no drawing skills are necessary), and a series of sketchbook samples will be created; these may be resolved pieces or 'stitch sketches' for future textile art projects.

Cost: £112.00 (inc £2.00 materials charge)
Collage and Stitch in Feltmaking

Thurs 21st Feb

Two Day Workshop
Fri 22nd Feb

Tutor: Ray Reynolds

During this two-day workshop, you will create felted collages. The first day will be spent felt-making using merino wool, silk threads, nepps, silk scraps, bamboo and other beautiful fibres. Then on day two you will work into these further with hand stitch and/or machine stitch.

Cost: £90.00 (inc £5.00 materials charge)

NOTE: Numbers will be limited to a maximum of 8
Batik Books

Wed 27th Feb

Two Day Workshop

Thurs 28th Feb

Tutor: Jenny O'Leary

Using the exciting art of batik – hot wax resist – on paper and tissue paper with inks and bleach, you will create coloured textured batiked papers, which will then be cut and folded to create imaginative folded books. A variety of approaches will be explored using newspaper, textured papers and brown paper with tissue papers. You will make embellished papers and then make them into book forms. You will also make book forms and then work on them with hot and cold wax resists. Different tools will be used in hot wax (such as stamps, stencils), as well as drawing tools. Techniques for trapping different papers and text under the tissue will be employed allowing a theme or narrative to be explored through the books. The results will be individual and beautiful!

Cost: £90.00 (inc £4.00 materials charge)

More images HERE
NOTE: Numbers will be limited to a maximum of 10
Two one-day workshops back-to-back looking at drawing for stitch. If you think you just wouldn't be able to 'draw with the machine' because you can't even draw, then Nodeen's techniques and help will change your mind! Her simple and clear approach in previous workshops has resulted in wonderful creations even from complete beginners.
You can book just one or both of these workshops.

Apples and Pears - Drawing for Stitch

Fri 1st Mar

Tutor: Nodeen Salmon

The idea of drawing can be terrifying for some so for this workshop you will start by doing warm up exercises. This is to familiarize yourself with how basic drawing techniques are similar to the one used for stitching. You will look at a simplified design and interpret its composition, shape, and proportions ready for stitch. You will develop shape, and structure, texture and shadows using the sewing machine needle to create a pleasing still life design. Stitching will focus on building up layers and putting subtle colours together to give a three-dimensional look to the design.

Cost: £40.00
Poppies in Mid-Summer

Sat 2nd Mar

Tutor: Nodeen Salmon

It is not botanical accuracy that is the most important aspect of our drawing of poppies, but using the sewing machine and the threads in a way to capture the shapes, colour, texture in your style. The colours for this workshop work well together and will draw attention to the design. They are classic colours that will allow students to produce a beautiful stitched piece.

Cost: £40.00
Botanical Books

Tues 5th Mar

Two Day Workshop

Wed 6th Mar

Tutor: Alice Fox

Explore a series of simple but effective techniques for making marks on paper, using plant materials, including eco-printing, mono-printing, frottage and text. Learn a variety of book structures, from simple folded forms through to some stitched bindings and turn your printed papers into a series of beautiful botanically printed books.

Cost: £99.00 (inc 5.00 materials charge)
Creative Drawing

Thurs 7th Mar

Tutor: Suzy Drake

Drawing is the first step to creating a totally unique image and can transform the way your own creative work develops. This workshop will help to develop your confidence in producing drawings by exploring the process of observation, before translating these ideas onto paper, using a host of drawing and mark-making techniques.
Student work illustrated.

Cost: £32.00 (inc £2.00 materials charge)
Artists' Portfolio with Handprinted Papers

Fri 8th March

Tutor: Derek Wood

Artist and bookbinder Derek Wood will guide you, step by step through the basics of constructing and binding a traditional Artists' Portfolio.
We will begin by exploring the technique of the 'Shibori' fold, tie and dye on paper. We will then use this paper, combined with book cloth to create a unique, classic Artist's Portfolio.

At the end of the workshop you will have created your own unique Artist's Portfolio to store your artwork.

Cost: £38.00 (inc £5.00 materials charge)

All basic materials and equipment will be provided, and papers, boards and book cloths will be pre-cut to size, so there is minimal measuring required.
This one-day workshop is suitable for beginners.
Collaborative Drawing and Colour Studies

Tues 12th March

Two Day Workshop

Wed 13th March

Tutor: Bobby Britnell

This workshop will help you realise that anyone really can draw! Working collaboratively is both a liberating experience and also great fun. You will, of course, claim part of the drawing as your own and in this find new ways of extending your repertoire using a variety of drawing and colouring media - a really lovely way to work! The workshop will be looking at a number of different ways of working all of which will give confidence to those that say they cannot draw.

Cost: £105.00 (inc 3.00 materials charge)
Small Stitched Collage

Fri 15th March

Two Day Workshop
Sat 16th March

Tutor: Debbie Lyddon

Collage is a technique that many artists use and the master of cut paper, Henri Matisse, called it 'painting with scissors'. It is a flexible and fluid manner of working that enables cut pieces of paper or cloth to be arranged and re-arranged to make a balanced composition of form and colour.

In this workshop you will make a small machine and hand stitched collage based on a photo or drawing of your choice. On the first day you will design your collage, paint fabric and paper and learn pulled thread techniques in order to produce interesting materials to make your collage. On the second day you will assemble your collage paying attention the design principles of colour, texture, shape, space and line before finishing it off with waxing techniques and hand stitching.

www.debbielyddon.co.uk

Cost: £130.00 (inc £5.00 materials charge)

NOTE: Numbers will be limited to a maximum of 9
Fun with Lino-cutting

Wed 20th March

Tutor: Anna Pye

During the day you will cover the basics of lino-cutting and printing. Anna will talk briefly about her work before demonstrating the use of the tools. You will experiment mark-making on a sample piece of lino, seeing how the tools can make a variety of cuts. There will be a discussion about your design and how to transfer it to the block, reversing it if necessary. Think bold, graphic and simple for your design if you are new to lino-cutting. When your block is cut you will learn to accurately register your block.Anna will talk about inks and paper, and demonstrate inking-up and hand-burnishing. You will then ink-up and print your own block using a baren/wooden spoon. Then comes the exciting moment when you peel back the paper to reveal your print!

Student work illustrated

Cost: £48.00 (inc £10.00 materials charge)

All of the specialist materials needed for the workshop are provided as part of the charge.
Clare has developed her own strong, individual style within felt-making. We have two workshops from Clare looking at two distinct areas of felt-making. Taking either, or both, will almost definitely widen and develop your skills.

Experimenting with Prefelt

Thurs 21st March

Tutor: Clare Bullock

In this workshop Clare will guide you through the techniques for producing pre-felt and you how it can be used innovatively within felt-making. First you will make your own pre-felt and create a variety of shapes. You will then learn how to embed them into another layer of fibres creating a beautifully felted fabric with a wonderful surface quality that can be used for a variety of purposes - functional or purely decorative. Your design, which could perhaps be inspired by the meanderings of shapes and lines on a map, or a geometric design, will also be perfect for stitch!

Cost: £44.00 (inc £6.00 materials charge)

See also Claire's Nuno Felting workshop on 23rd April.
This regular and popular workshop

Metal Magic

Fri 22nd March

Two Day Workshop
Sat 23rd March

Tutor: Lynda Swaine

Metals can often be used to great effect to enhance interest in your work so this course is designed to give you confidence with stitching and embellishing metal. There are many varieties of metal, some of which can easily be stitched into, and some not. This course will cover a selection of the metals available and will explain which are best for stitching. These will include copper, brass, aluminium, coloured foils, metal fabric, wire mesh and knitted wire.

You will be distressing some metals to create exciting colours using the heating method and will be shown how to emboss patterns and add texture. You will also be given some metal that has already been distressed together with instructions on how this is achieved. Then you will explore the best methods of stitching into different types of metal and discuss how they can be used in your own work. Further interest will be added by exploring various methods of stamping and printing onto the metal as well as looking at creative backgrounds to compliment your work.

Cost: £69.00 (inc £9.00 materials charge)
A Little Book of Leaves

Tues 26th March

Two Day Workshop

Wed 27th March

Tutor: Amanda Clayton

This workshop will explore Amanda's signature techniques of inlay, cutwork, applique, layering, floats and damasks, putting them together in the form of a cloth book, using the simplicity of leaves as imagery. Everyone and anyone, beginners or experienced will enjoy this calm two days of hand stitching in a neutral palette. floats and damask. Throughout we will be working in a delicious palette of neutral cloth and threads…shiny, matt, thick and thin, opaque and transparent. We will look at placing our stitched leaves on segments of organza that will magically become an eight-page cloth book at the end of the two days. There will be the opportunity to work with cloth qualities that you may not be familiar with and the choices you make will add to your own personality of 'a little book of leaves'

www.amandajclayton.co.uk

Cost: £98.00
Flowers in Mixed-media Acrylics

Fri 29th March

Tutor: Heather Miller

This workshop will suit newcomers to acrylics or people who have done previous courses with Heather and would like to try something different. Heather will work with you at whatever level your abilities are. The focus will be on working spontaneously using a combination of acrylic inks and acrylic paint. You will lay down the first layer loosely in acrylic inks and will then build the composition with acrylic paint. By the end of the day you will have created a vibrant flower painting and will have learnt ways of combining these two versatile mediums.

Cost: £46.00 (inc £10.00 materials charge)
Chasing More Shadows

Tues 2nd April

Two Day Workshop

Wed 3rd April

Tutor: Sarah Burgess

This workshop will push ideas to the next level and build on previous 'Layering Print and Transparency' and 'Chasing Shadows' workshops, but will also be suitable for those new to print and working with semi-transparent materials. You will explore transparency and layering using a range of experimental print methods, stitch and applique, using hand or machine stitch as you prefer.

Beginning with exercises on experimental composition with shadows and then moving on to explore combinations of techniques, you will work with a range of semi-transparent surfaces in paper and fabric to produce complex incidental layered images which explore shifting and fleeting shadows. Working from your own imagery, such as plant and tree forms, human and animal figures or man-made structures, you will produce a range of highly individual and atmospheric pieces

Cost: £130.00 (inc £8.00 materials charge)

NOTE: Numbers will be limited to a maximum of 8
Contemporary Wired Jewellery

Thurs 4th April

Two Day Workshop
Fri 5th April

Tutor: Pauline Verrinder

Explore the creative potential and processes involved in combining wire with fabric and stitch to create jewellery. You will concentrate on creating beads, bangles, brooches and pendants using wire while experimenting with a medley of techniques. Once the techniques are mastered a variety of forms can be created other than jewellery. Both hand and machine stitching will be used with the wire so it is essential you are skilled with free-machine embroidery.

Cost: £77.00 (inc £5.00 materials charge)
An Explosion of Colour

Tues 9th April to

Three Day Workshop
Thurs 11th April

Tutor: Ruth Issett

Initially using the glorious range of dye colours available, we will research unusual combinations on paper. By investigating various colour mixes you will select a particular colour palette of dye. Working with a variety of fabrics, you will dye your fabrics, as well as some threads, with your own selected palette of colour. These materials will then be used to research and investigate colour through layering and simple hand stitching. The qualities of these dyed transparent, translucent and opaque surfaces will be further explored, disturbed and enhanced by the use of stitch and additional colour mixing.

A course for those willing to research and investigate the quality and nature of colour on dyed and stitched fabric surfaces.

Cost: £140.00 (inc £10.00 materials charge)

NOTE: Numbers will be limited to a maximum of 10
Putting on the Glitz

Tues 16th April

Two Day Workshop
Wed 17th April

Tutor: Mary McIntosh

On day one you will work with a variety of different surface design media including acrylic and fabric paints, bonded sheers, lame fabrics, transfoils and glitter film to build up layers onto a background of black velvet. Mary will bring materials in a variety of colourways for you to choose. On day two you will bring the pieces to life with machine stitch. Some experience of free machine stitching would be useful but not essential. You may also wish to add hand stitching and beading into the mix for added texture and sparkle.

Cost: £115.00 (inc £10.00 materials charge)

NOTE: Numbers will be limited to a maximum of 8
Experimenting with Nuno Felt

Tues 23rd April

Two Day Workshop
Wed 24th April

Tutor: Clare Bullock

Explore the technique of 'nuno' felt - a fabric produced by combining diaphanous fabrics and wool fibre. You will be encouraged to experiment with the techniques and, having discovered the creative potential and possible effects of the cloth produced, you will go on to explore the almost limitless textures and surfaces that can be created by sampling all sorts of different combinations of fibre and fabric. Using Clare's techniques your finished pieces will be full of interest while retaining complete surface integrity.

Cost: £77.00 (inc £6.00 materials charge)
Print and Stitch

Thurs 25th April

Tutor: Gina Ferrari

Using carved wooden printing blocks you will print designs onto fabric and then colour them with dyes. Using simple hand or machine stitch you will then embellish the designs creating unique pieces of fabric to be used in future projects. Gina will be showing several finished pieces to illustrate the potential of this technique.

Cost: £41.00 (inc £4.00 materials charge)
This is a repeat of a 'next level' workshop that Heather gave last July, but because you will be bringing your own source material the features of the day are likely to be completely different. Some experience of acrylics is recommended though not essential.

Working Fast and Loose with Acrylics

Tues 30th April

Tutor: Heather Miller

You will be looking at techniques to get the best out of this vibrant medium, working quickly and expressively. Learn how to get the best composition from your landscape photograph, exploring colour mixing and mark making in fun, fast and lively ways that enhance your painting. Bring photos of landscapes as your inspiration. All materials provided.

Cost: £48.00 (inc £12.00 materials charge)

NOTE: Numbers will be limited to a maximum of 9
Advanced Eco Printing

Tues 4th June

Two Day Workshop

Wed 5th June

Tutor: Caroline Bell

A more advanced approach to eco-printing. Using the process of applying heat and moisture to plant material wrapped in fabric, you will have the opportunity to build on established skills through the use of natural dyes, mordants and different ways of bundling.

Cost: £95.00 (inc £5.00 materials charge)

NOTE: Numbers will be limited to a maximum of 9
Watch This Space!!!