Workshop Programme Autumn 2019
Welcome to the 2019 Autumn
ART VAN GO Workshop Programme.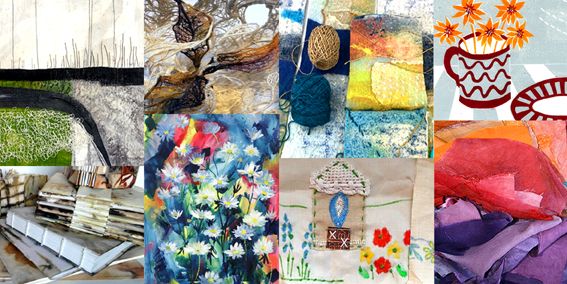 All workshops are held at ART VAN GO and run from 10am to 4pm

The maximum numbers on a workshop is normally 12, but many workshops listed here have the maximum reduced to a lower number to accommodate the greater demand for space for particular subjects.
Where this is the case, a note has been added to the workshop details.
Booking is by phone, or in person, only
Tel: 01438 814946
Booking will start on Monday 24th June, strictly at 10am.
As ever it will be first come, first served.
You can phone 01438 814946 or come into The Studios and book in person.
We cannot take bookings via the website or by email.
For Booking Conditions click HERE

For general workshop information click HERE
Contemporary Wired Jewellery

Tues 10th Sept

Two Day Workshop

Wed 11th Sept

Tutor: Pauline Verrinder

Explore the creative potential and processes involved in combining wire with fabric and stitch to create Jewellery. Concentration will be on creating beads, bangles, brooches and pendants using wire and experimenting with a medley of techniques. Once the techniques are mastered a variety of forms can be created other than jewellery. Both hand and machine stitching will be used with the wire so it is essential you are skilled with free-machine embroidery.


Cost: £77.00 (inc £5.00 materials charge)
Print, Print and Print Some More

Thurs 12th Sept

Two Day Workshop
Fri 13th Sept

Tutor: Alison Hulme

Using a variety of tools, including GelPress plates, Thermofax and stencils, learn to make clear prints on a variety of fabrics. You will have a variety of pieces from which you could make a collage, bag or picture. The workshop will develop your skill level with printing techniques, encourage experimentation and be a lot of fun too!!

Cost: £106.00 (inc £10.00 materials charge)

NOTE: Numbers will be limited to a maximum of 8
Experimentation with a wide range of art materials has given Ruth a terrific in-depth knowledge as well as many hours of fascination and enjoyment. This workshop will revisit some of the 'what if' moments that Ruth has experienced over her long association with Art Van Go and celebrate the energy and excitement that occurs when being allowed to use a glorious range of different art materials.

Where it all Began!! "What If…." & "I Wonder…."

Tues 17th Sept

Two Day Workshop

Wed 18th Sept

Tutor: Ruth Issett

In a structured manner, this paper-based workshop will look at a wide range of materials, paints, inks, drawing media, as well as at the papers themselves. Methods and processes will be shared and explained throughout the two days allowing you to develop an understanding of different media. This workshop will provide the opportunity to get your hands messy and is certain to include the excitement of rich and vibrant colour, bold mark making, enhancement of surfaces, and maybe the creation of delicate effects and refined finishes!

Once introduced and trialled there will be ample opportunity to develop your work further, as well as create a unique collection of paper-based samples.

Cost: £120.00 (inc £10.00 materials charge)

NOTE: Numbers will be limited to a maximum of 9
Analysing Colour

Thurs 19th Sept

Two Day Workshop

Fri 20th Sept

Tutor: Julia Triston

This two day workshop will be about analysing colour. There will be several practical sketchbook-based exercises; you will work with papers, paints and threads. You will investigate compositions, collages, colour proportions and colour distinctions. Students will work at their own pace to develop a range of 'samples' which may be used as inspiration for stitched textiles.

Cost: £112.00 (inc £2.00 materials charge)
The Heat is On

Tues 24th Sept

Two Day Workshop
Wed 25th Sept

Tutor: Lynda Monk

A mixed media workshop, creating surfaces using materials which react to heat, along with materials created with heat and materials which generate heat - well at least for a bit! An action packed, two day workshop! (Redbull not provided!)

Cost: £98.00 (inc £20.00 materials charge)

All materials are supplied by Lynda for this workshop
Silver Birches in Autumn

Fri 27th Sept

Tutor: Nodeen Salmon

I love trees but particularly in autumn. When travelling along roads, or in some gardens, we see lovely displays of autumn silver birches, with their distinct white trunk, they are instantly recognisable. They are intriguing subjects for machine embroidery. The workshop will aim to cover how to stitch the bare trunks and branches, considering their construction and focussing on techniques that will achieve the delicate balance between the colours in the tones of the trees. This will all be achieved using machine embroidery threads.

Cost: £40.00
Piecing and Patching

Tues 1st Oct

Two Day Workshop
Wed 2nd Oct

Tutor: Amanda Clayton

Flat seam, French seam, butting, overlaying, right side, wrong side, transparency, contrasts and opaqueness; hand stitich your way through these techniques allowing your work to develop organically. The workshop is about the process of making, considering the decisions we take along the way, with the materials and techniques we use. Amanda's signature techniques will be taught but you will be encouraged to develop them in your own way. The techniques will take on a new life when papared down and worked in neutrals, allowing you to go home with a multitude of ideas to inspire and enjoy.

Cost: £98.00
Woven Accordion Books

Fri 4th Oct

Tutor: Derek Wood

These accordion style books are constructed without the need for stitching or glue, but instead rely on some clever folding and weaving techniques.
You will begin by creating hand decorated papers, using various resist techniques. These will then be woven together, to create chequerboard style covers with accordion pleated pages. This workshop is suitable for beginners, and all materials are provided. Artist and bookbinder Derek Wood will guide you, step by step through the project.
All instructions and templates, pre-cut boards and papers are provided, which means less time spent measuring and cutting, and more time for creativity!

Cost: £38.00 (including £5.00 materials charge)

All materials provided by the tutor
Hot and Cold: Resists on Paper

Tues 15th Oct

Two Day Workshop

Wed 16th Oct

Tutor: Jenny O'Leary

Explore the exciting marks and effects created by using different forms of resist waxes with stencils - hot Batik, cold brushable wax resist, oil pastels and candles.With tissue and paper as the base you will work with the resists with inks and bleach. To add to the excitement you will be using a wide range of traditional and non traditional tools to apply the hot wax. Get your potato mashers ready!

On the second day you will develop ideas using your findings as well as develop new pieces using the effects you've discovered. You can also use some of the papers to explore the possibilities of collage.

Cost: £90.00 (inc £4.00 materials charge)

NOTE: Numbers will be limited to a maximum of 10
One Thing Leads to Another!

Fri 18th Oct

Two Day Workshop
Sat 19th Oct

Tutor: Bobby Britnell

Find out how one simple drawing idea can lead to multi-media approaches in design. A very accessible course for anyone concerned about drawing and design, as well as being great fun. This workshop will show you how, from one simple and accessible starting exercise, ideas can keep growing and developing. You will start with a pastel drawing using the source material provided, or your own special artifacts, as starting points. The workshop will continue with this drawing, showing how it can be changed through a variety of activities, include mixed media and collage, resulting in an excellent series of artworks which can be presented or framed. These works could also serve as ideas for textile designs at a future date.

Cost: £105.00 (inc £3.00 materials charge)
Fun with Lino Cutting

Tues 22nd Oct

Tutor: Anna Pye

Enjoy this fun, creative printmaking medium. During the workshop you will learn about the tools, lino, papers and inks involved in lino-printing. After demonstrations and experiments you will cut your design, learn to ink up your block and print it by hand on a variety of papers.

www.annapye.com

Cost: £48.00 (inc £10.00 materials charge)

All of the specialist materials needed for the workshop are provided by the tutor as part of the charge.
Experimenting with Nuno Felt

Wed 23rd Oct

Two Day Workshop

Thurs 24th Oct

Tutor: Clare Bullock

Explore the technique of 'nuno' felt - a fabric produced by combining diaphanous fabrics and wool fibre. You will be encouraged to experiment with the techniques and, having discovered the creative potential and possible effects of the cloth produced, you will go on to explore the almost limitless textures and surfaces that can be created by sampling all sorts of different combinations of fibre and fabric. Using Clare's techniques your finished pieces will be full of interest while retaining complete surface integrity..

Cost: £77.00 (inc £6.00 materials charge)
Amanda Hislop will have her first Search Press book published in the autumn. We feel proud and privileged to be hosting Amanda's celebration events! There will be an exhibition, a launch party and this series of workshops. Look out for more details soon!

Colours of the Sea and Shore

Tues 29th Oct

Tutor: Amanda Hislop

Colour exploration…less is more! Working within the restraints of a limited colour palette let colour mix and mingle in an exploratory workshop creating subtle colour combinations inspired by sea and shore.
Explore subtle mixes of colour, tonal variation, warm and cool mixes; overlay, thicken and dilute. Experiment with gloss and matt acrylic medium to alter texture and transparency while playing with the application of paint using specific brushes and tools.

Enjoy the freedom to develop a collection of colour and mixed media samples, exploring the creative potential of mark making, colour and texture to use in textiles and mixed media.
Suitable for those with an open mind and desire to explore who enjoy the challenge of intuitive experimentation.

www.amandahisloptextileartist.com

Cost: £52.00 (inc £6.00 materials charge)

NOTE: Numbers will be limited to a maximum of 9
Seascape Sketchbook Exploration

Wed 30th Oct

Two Day Workshop
Thurs 31st Oct

Tutor: Amanda Hislop

During this workshop you will explore the creative potential of line and texture, with restrained colour, through experimentation with drawn marks and simple collage. Working with personal seascape inspiration, you will develop drawings, observing shape and line, adding detail from your inspiration and experiences of the sea. Explore and simplify, abstract and fragment your image to create a highly personal record of inspiration and experimentation to be drawn upon in later work or to be appreciated in their own right.

Work intuitively with materials and mediums to create personal pages using line texture and colour. Explore different qualities of drawn lines with resist, layered tissue and colour washes to free up and create expressive original abstract arrangements to form inspired sketchbook pages.

Suitable for those who enjoy the challenge of intuitive experimentation, exploration and extension of creative boundaries who have an open mind and a desire to explore.

Cost: £99.00 (inc £10.00 materials charge)

NB: Students need to collect information and source materials in advance.

NOTE: Numbers will be limited to a maximum of 9.
Bleach and Beyond

Fri 1st Nov

Tutor: Mary McIntosh

Starting with a piece of procion dyed cotton (variety of colours available, contact Mary with any special requests) we will first remove colour using Jacquard Decolourant and household bleach working with thermofax and silk screens with your own design to create a light delicate background. Then add colour back in on top working again with the screens and screenprinting inks, fabric and acrylic paints. You should go away with a highly individual piece of cloth to use for future textile work. Please note that the decolourant and bleach can be quite messy and smelly and may not be suitable for those with breathing problems. Masks will be worn and the room well ventilated so wrap up warm.

Cost: £56.00 (inc £10.00 materials charge)

NOTE: Numbers will be limited to a maximum of 8.
Abstract Sea

Tues 5th Nov

Two Day Workshop
Wed 6th Nov

Tutor: Amanda Hislop

Explore the colours and textures of the sea and shore through expressive mark making and print. Develop your ideas with abstract collage arrangements and simple hand stitch. During the course you will explore a restrained colour palette, with line and texture, working with a series of print blocks and mark making tools. The resulting developed surfaces can be fragmented and overlayed . You will think about abstraction, working intuitively to create highly individual arrangements of small abstract collages to work into with simple hand stitch.

Suitable for those who enjoy the challenge of intuitive experimentation, exploration and extension of creative boundaries who have an open mind and a desire to explore

Cost: £105.00 (inc £10.00 materials charge)

NOTE: Numbers will be limited to a maximum of 9.
Chasing Print and Stitch Shadows

Thurs 7th Nov

Two Day Workshop

Fri 8th Nov

Tutor: Sarah Burgess

This workshop will push ideas further and build on previous Layering Print and Transparency and Chasing Shadows workshops but will also be suitable for those new to print and working with semi-transparent materials. We will explore transparency and layering using a range of experimental print methods, stitch and applique using hand or machine stitch as the student prefers. Participants will work with a range of semi-transparent surfaces in paper and fabric to produce complex incidental layered images which explore shifting and fleeting shadows. Working from the student's own imagery, such as plant and tree forms, human and animal figures, water and reflections or man-made structures we will produce a range of highly individual and atmospheric pieces culminating in more resolved personal work, supported by individual tutorials.

www.sarah-burgess.com or www.textilestudygroup.co.uk

Cost: £135.00 (inc £8.00 materials charge)

NOTE: Numbers will be limited to a maximum of 8
Batik for Collage - Collage for Batik

Tues 12th Nov

Two Day Workshop
Wed 13th Nov

Tutor: Jenny O'Leary

Explore the exciting technique of Batik, hot wax resist, on tissue paper, with inks and bleach using collage and layering. Create translucent layers of tissue to Batik onto and also Batik onto different papers. Use these beautiful papers you've created to create collaged images and designs by cutting, tearing, selecting and composing.

Cost: £90.00 (inc £4.00 materials charge)

NOTE: Numbers will be limited to a maximum of 10
It's a Wrap

Fri 15th Nov

Two Day Workshop

Sat 16th Nov

Tutor: Frances Pickering

Make three or four small books and a decorated wrap with pockets to hold them. The books can be individual or a set on one subject, e.g. the seasons, types of flowers, wildlife, sewing items, etc. The wrap can be richly embellished to reflect the contents.

The emphasis on the workshop is that the books are small (no bigger than 2ins x 2½ ins) which will limit the size of the inclusions. Students should bring items they may want to put in their little books or to use as inspiration - photos, small scraps of fabric, tickets or any other small printed memorabilia.

Frances will bring the paper material (called 'Wall Doctor' lining paper) for the construction of the wrap and the books and will have it for sale to save you buying a whole roll.

Cost: £78.00 (inc £4.00 materials charge)
Draw and Stitch Permutations

Wed 20th Nov to

Three Day Workshop
Fri 22nd Nov

Tutor: Alysn Midgelow Marsden

There are times as textile artists in which we plan, design, consider, trial and discuss our ideas to the extent that by the time we are creating them, quite honestly, we are over them! In this course we will lighten up, try something different, and simply instinctive, creating freely made lines. An improvisational mark making journey which glides effortlessly into creating works from natural or other observed forms.

We will look at options for developing these into print, into layered bases and later will use free flowing, simple stitching, applique, wires and couching.

This is an improvised design technique which is spontaneous, straightforward and effective for everyone. You absolutely don't have to be able to 'draw' or 'design', simply be willing to go with the flow! Can be either machine, hand stitch or both as suits you. There is no necessity of any history of drawing, stitch or textile work, everyone is welcome..

Cost: £130.00 (inc £5.00 materials charge)
Stitch with Found Objects

Wed 4th Dec

Two Day Workshop
Thurs 5th Dec

Tutor: Alice Fox

Taking an experimental approach, we will explore different ways to incorporate a range of found objects into textile artwork. (Bring along some of your own collected items to see what potential they hold!) We will use a range of techniques including, wrapping, couching, binding, stitching under, over and through! Students will produce a series of unique samples to take away, providing a springboard for further work. .

Cost: £95.00
What happens next????!!!
"Where It All Began!
Analysing Colour
The Heat is On