Events & Exhibitions
Venue: ART VAN GO, The Studios
Where are we? Click HERE!
This page shows the current event.
Tick the Box
The second exhibition from contemporary textile group
Work in Progress
which interprets the ideas of 'ticking the box'.
The work is varied, amusing and uses a wide variety of techniques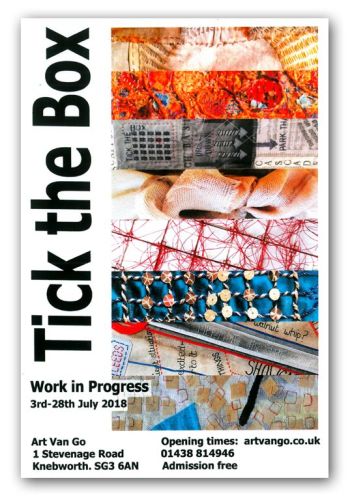 "The theme of our latest exhibition, Tick the Box, came out of discussions about how to escape the pressure to 'get through our lists', to conform - especially in the workplace, combined with the pleasure in literally making box forms.
This is the second joint exhibition from the 'Work In Progress' Group. The seven of us, Pat Brown, Sue Cooke, Gill Davies, Jeannine Lawder, Penny Proctor, Janet Pullen, Lesley Taylor, are linked through studying a City and Guilds Diploma in embroidery at Missenden Abbey.
Fascinated by stitch but separated by a diversity of techniques, our exhibition explores highly individual imagery and materials. We hope you enjoy our different interpretations of 'Tick the Box' ".
Tues 3rd to Sat 28th July
ART VAN GO Gallery
Opening times:
9.00-5.30 Tues-Fri, 9.00-2.30 Sat
Members of the group will be in attendance at the exhibition on the following days to discuss the work
Wednesday 4th July
Friday 13th July
Saturday 14th July
Tuesday 24th July
Wednesday 25th July